Whether it's for fun or something more, we've got the right team event for you…
We think there are three core ways in which you can bring your team together, and which one you choose depends on your desired outcomes. Watch our video to find out more!
Download our brochure
Choose the team building event that's right for you…
Team Building is a widely used term, used to describe three very different types of experience.
Our Team Away Days focus purely on the fun.
Fully bespoke Team Development Programmes can be transformative for both your business and your team.
Then there's our Team Building Events which sit somewhere in the middle and are a nice way to blend the two.
You can find out more about the three different types of events that we offer below, all of which are delivered to the highest possible standard.
And if you need help at any point, our team are ready for you.
Download our brochure
Book a call with an expert
Want to know which type of event is right for you?
Request a callback from one of our team who'll be happy to help.
Book a call with an expert
Have a question or two?
Watch some of our handy videos below.
Your Team Building Questions, Answered
Have questions about our team building events? Get the answers you need by watching this video.
How Can My Team Building Event Bond My Team?
Make your team feel a part of something bigger.
The Cost Of Our Team Builds, And Why?
We break down the different packages and the prices that go with them.
See more videos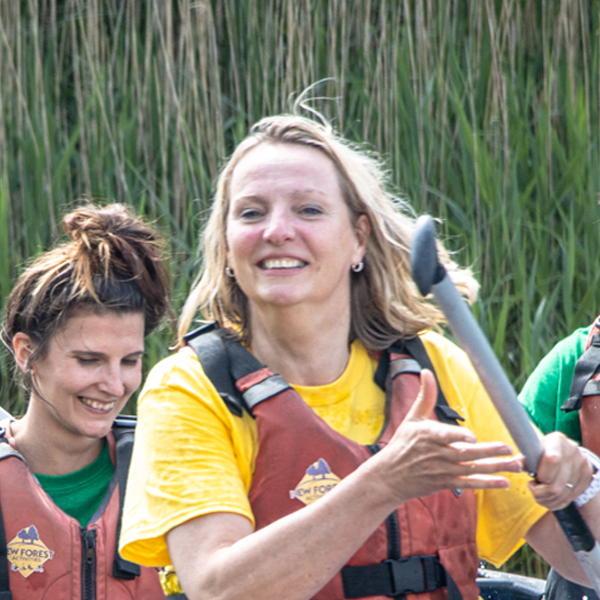 For me, as the owner of the business, to see everyone gelling together having mixed up our different teams, was really fun to see. Definitely good value for money and great fun had by all.
"A fantastic day was had by all"
I would highly recommend New Forest Activities for a team building event. Sam was extremely helpful when I booked our canoeing trip, giving me all of our options as well as giving me details of the local pubs and what they could offer for our get together afterwards. All of the staff were friendly and informative and the Beaulieu River was stunning. A fantastic day was had by all and I hope we'll be back next year!

"All very helpful, efficient and easy to work with"
We were mainly looking for team bonding and fun! Everyone really enjoyed themselves (even those who thought they wouldn't). I think it was perfect for team building. I would recommend and potentially return if in the same area again.

"Incredible time with New Forest Activities!"
As part of a corporate team building day, we spent the afternoon canoeing and did bushcraft. The facilitators were both extremely professional, fun and informative. It definitely exceeded all expectations and was a great way for the team to connect away from the office. Highly recommend!

"Loved every minute of it!"
Amazing team who gave us the best day out. A special mention to our instructors Steve and Ellen who were very supportive and great hosts. Nothing was too much for them.

"Well organised and friendly staff"
This is the second time we have used New Forest Activities for our company event. They are really well organised from booking to throughout the event. The staff are friendly, helpful and informative and make the sessions really fun. I am sure we will be booking events again with them in the future.

We've worked with...