To put it bluntly, this year's been s**t.
Have you been working from home?
Are your staff furloughed?
Have you had more Zoom calls than you can count on one hand? Us too!
It probably feels like your annual team Christmas party is just another thing to add to the 'cancelled' list.
Well, you might not be able to throw your best moves on the dance floor this year, but here at New Forest Activities, we've been working hard to put together a safe, enjoyable day of activities for Christmas parties in the great outdoors, where teams can come together again to celebrate the Christmas festivities.
Get help to plan your party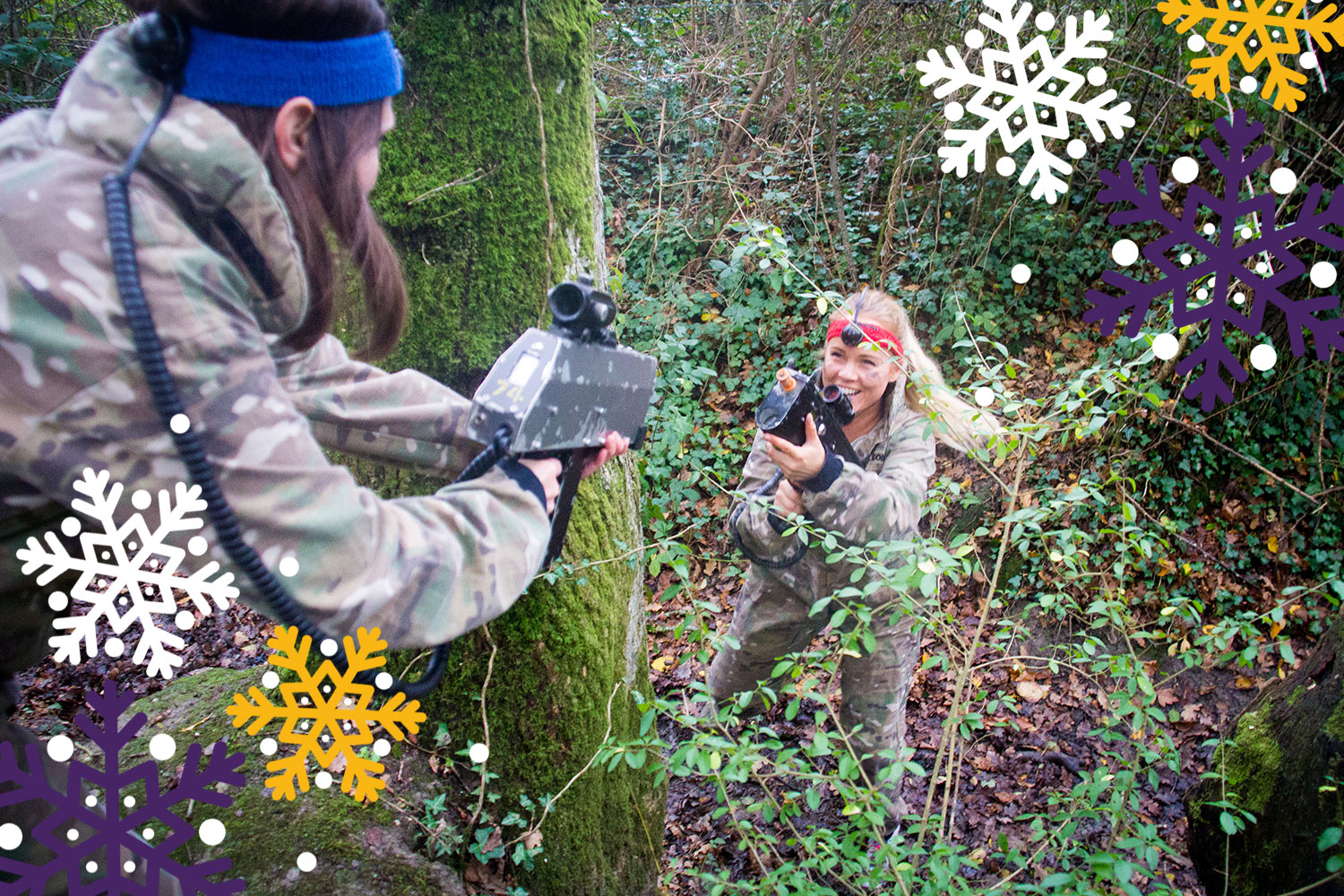 COVID-secure, that's for sure!
You can thank your lucky baubles that we're a COVID-secure tour and activities operator, meaning that we're able to offer our activities for groups of 8 – 24 people.
And you won't need to go all the way to the North Pole to distance yourself either, as all of our activities are COVID-friendly and allow for adequate social distancing throughout.
You'll get to enjoy a wonderful array of activities in the fresh air, before or after a delicious Christmas themed lunch together, which is included by the way!
"Business meetings and events such as conferences, exhibitions, conventions, and consumer/trade shows are permitted at a cap of 50% of the venue's capacity or 2000 people outdoors/1000 people indoors, whichever is lowest". – GOV.uk
We're allowing groups of up to 24 people to book their Christmas parties with us. This is a number that we believe we can manage and deliver our activities to safely, and to COVID-secure standards.
Don't have your Christmas party over Zoom!
Although 2020 may be cancelled, your Christmas party certainly doesn't need to be. Let us know dates, and we'll do the rest for you.
Get help to plan your party
What's included?
You'll enjoy half a day with us, taking part in a range of delightful, socially distanced activities
Your day will include three enjoyable hours of activities, plus an hour for lunch
You'll be thoroughly entertained with a range of activities such as Archery, Bushcraft and BattleZone (outdoor laser tag)
All of your activities will be delivered by one of our awesome instructors
You'll enjoy a scrumptious, individually plated Christmas themed lunch together, with indoor and outdoor seating available
All equipment is provided and cleaned to COVID-secure standards to ensure your safety
You are very welcome to bring your own booze should you wish to (within reason, and to drink after activities only)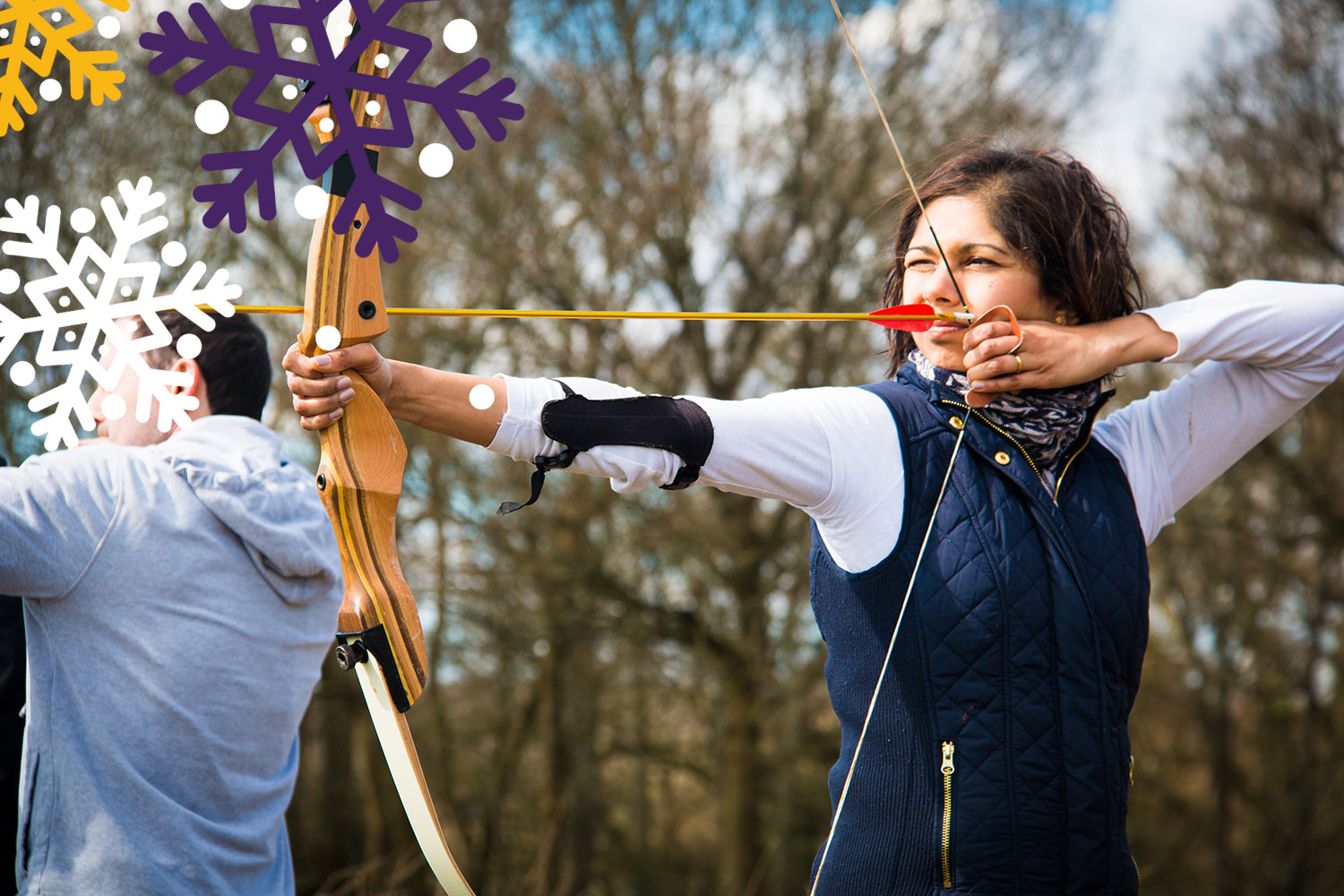 A wonderful day of outdoor activities and a scrumptious Christmas themed lunch, all for…
"Festive Archery"
We had an exclusive session of festive Archery for our work Christmas party. Our instructors were friendly and ran an excellent session taking us through the basics, ensuring we had success before making things more challenging. We all had a great time. Thank you!
"Our whole team enjoyed it so much!"
We visited recently for our team Christmas party. The staff were knowledgable, fun and very accommodating to our needs! We played BattleZone which was a great activity. Our whole team enjoyed it so much! Thank you!
"We had a lovely afternoon"
Our guide looked after us from the get-go and we felt very confident with him especially being complete novices. His interesting facts made the experience so much more fun. We really appreciated the lengths you have gone to observe social distancing and it was lovely to have a few hours away from all the madness going on at the moment. Thank you.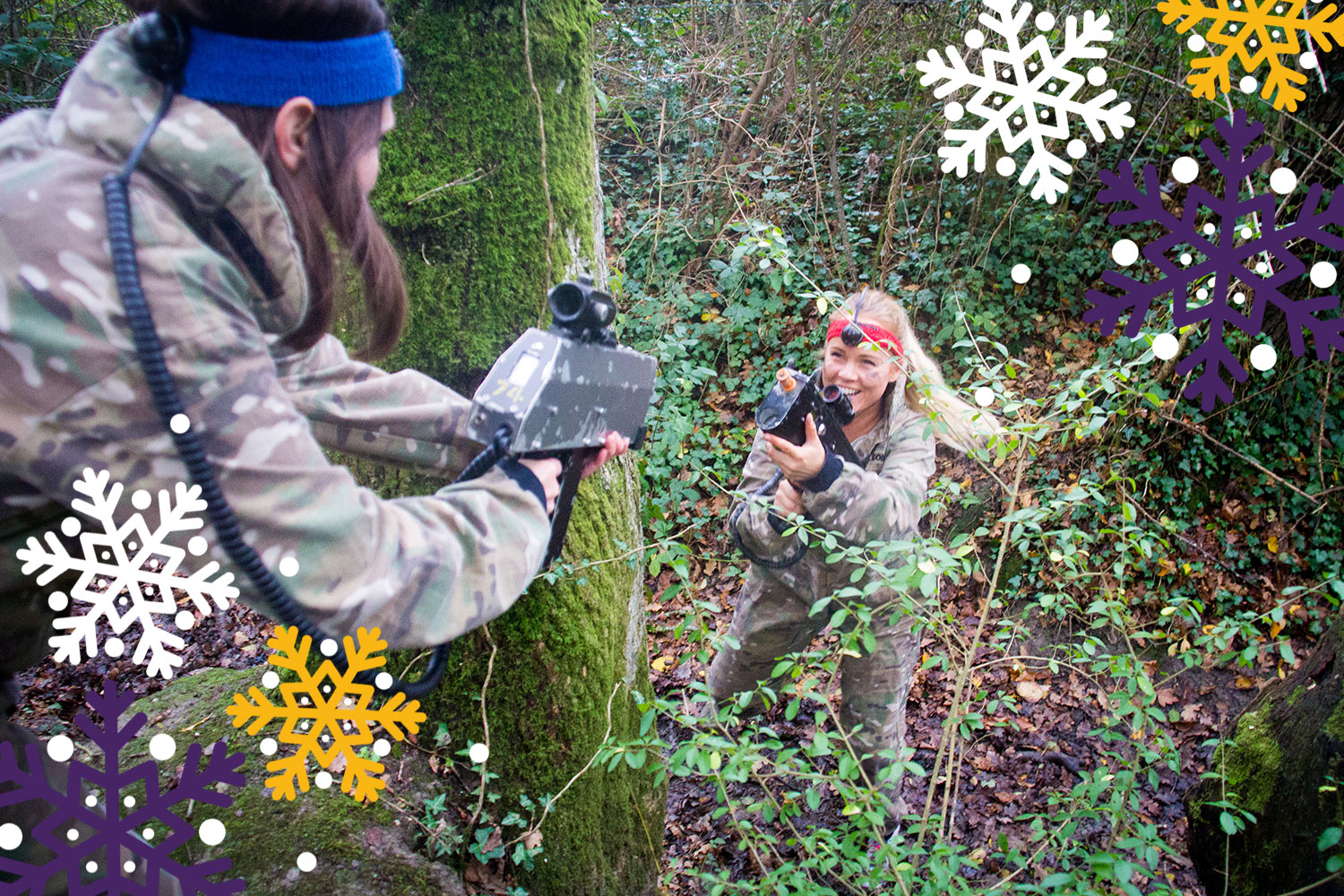 Christmas celebrations, guaranteed!
If Boris drops another bomb on us and for some reason, you're unable to attend your Christmas party with us, we'll either hold it as credit to use at a later date or we'll return your booking amount to you as Christmas gift vouchers to share with your team. It's a win-win!
What happens if..
Your frequently asked questions, answered.
Are we allowed to book this?
Yes! As a COVID-Secure tour and activities operator, as well as a business venue, we're allowed to offer guided tours and business events at 50% capacity. See the official .GOV website for more information.
How is it COVID-Secure?
We've carried out thorough risk assessments required by tour and activity operators to be able to operate during the COVID-19 pandemic. We've also ramped up our cleaning regime, with kit being cleaned and disinfected after each individual use. Social distancing will also be in place throughout your visit with us.
What if we go into lockdown?
If we're required to go into a local or national lockdown, we'll offer to hold your booking as credit and will be able to move you to a different date at a time that suits you. Or, we can return your booking amount to you as Christmas gift vouchers to share with your team!
If we are given more than 7-days notice, you will be eligible for a full refund.
What if someone I work with comes down with COVID-19?
If someone that you work with either contracts COVID-19 or is required to go into self-isolation, we ask that your group do not attend their Christmas party with us. In this instance, we will either keep your booking amount as credit for you to redeem at a later date, or we will issue you your booking amount as Christmas gift vouchers to share with your team.
If we are given more than 7-days notice, you will be eligible for a full refund.
Why can I only book for 25 people?
Current government guidelines state that by law, businesses must cap their venue capacity to 50%. Our conferencing space can hold up to 50 people, so to fall in line with government guidelines, we will be capping our Christmas parties to 25 people.
Can I book for less than 8 people?
Yes, you can! If your party is less than 8 people, you can still book a party with us, but you will still be charged on an 8 person basis.
What activities are included, and what do they involve?
The following activities will be included as part of your day with us:
Bushcraft – You'll take part in an exciting bushcraft workshop, learning basic survival skills such as foraging, den building and fire lighting.
Archery – You'll spend some time on our archery range, honing your skills and taking part in a range of fun scoring games and challenges.
BattleZone – This outdoor laser tag experience is perfect for thrill-seekers! Like paintball, but without the pain, you'll go head-to-head on our woodland battlefield taking part in a variety of challenging gaming scenarios.
What's your indoor space like?
Our brand new cabin in the woods makes a great indoor space for your Christmas themed meal. It's a large, well-ventilated space where groups will be able to adequately, socially distance. We have a sheltered outdoor area that your group can also make use of.
Will we have to eat lunch outside?
Nope! We have an indoor space; your very own 'cabin in the woods' so to speak, where you'll be able to enjoy your Christmas themed lunch together. But we also have an outdoor space that you can make use of, should you wish to.
What's included in the Christmas themed lunch?
Included in your Christmas themed lunch will be…
An assorted selection of sandwiches:
Turkey, stuffing and cranberry
Tuna mayo
Ham salad
Bacon, brie and cranberry
Free-range egg mayo
Cheese and pickle
There will also be the following:
Home-made sausage rolls topped with red onion marmalade
Slices of home-made quiche; roasted vegetable and brie, and smoked bacon and stilton
Pigs in blankets, with BBQ dip
Red onion marmalade and goats cheese tarts
Sweet treats:
Home-made cakes
Mini mincemeat cigars
Indulgent chocolate brownies
Biscuit cakes and brownies
We can accommodate any dietary requirements where needed.
What if the weather's bad?
Our activities go ahead in all weathers and we can provide you with extra Gortex waterproofs should you need them. However, if we deem conditions unsafe to go ahead and we have to cancel, we will offer to either move your party to a different date or we can offer you a full refund.
Let's get planning!
Submit your details below and one of our team will be in touch to help you plan the perfect Christmas party.