Get 20% off a Family Canoeing session when you book by the end of June 2022
Your activity can take place at any time in the future though! Simply enter code FAMILYCANOE-20 at the checkout and your discount will be automatically applied.
Book Now
This one's sure to be a boat load of fun!
Enjoy a gentle introduction and guided tour of the stunning Beaulieu River Nature Reserve during a family-friendly canoeing session with New Forest Activites. This 90-minute, beginner-friendly activity is great for all aged 18+ months (and the doggo's too!) and with your expert guide, you'll soon get to grips with the art of canoeing.
Spend time exploring the hidden creeks and waterways of the stunning Beaulieu River whilst keeping an eye out for the varied wildlife that calls this beautiful nature reserve home.
Buoyancy aids size down for the little ones so this really is the perfect family activity!
Book now and get 20% off!
What's included?
Introductions to the equipment and initial kitting up
90 minute session with lots of guidance and instruction
Use of easy to paddle 2 and 3 seater canoes with safe modern equipment
Paddle tops and waterproofs as required
Instruction from a qualified coach to help with your skills
A guided tour and a journey up or down river depending on tides and weather
Toilets and changing facilities available on-site
Please note: Booking availability is on per person basis, not per boat
We can run extra sessions at a time to suit you. If you can't easily find the date you're after please get in touch and we will be happy to help.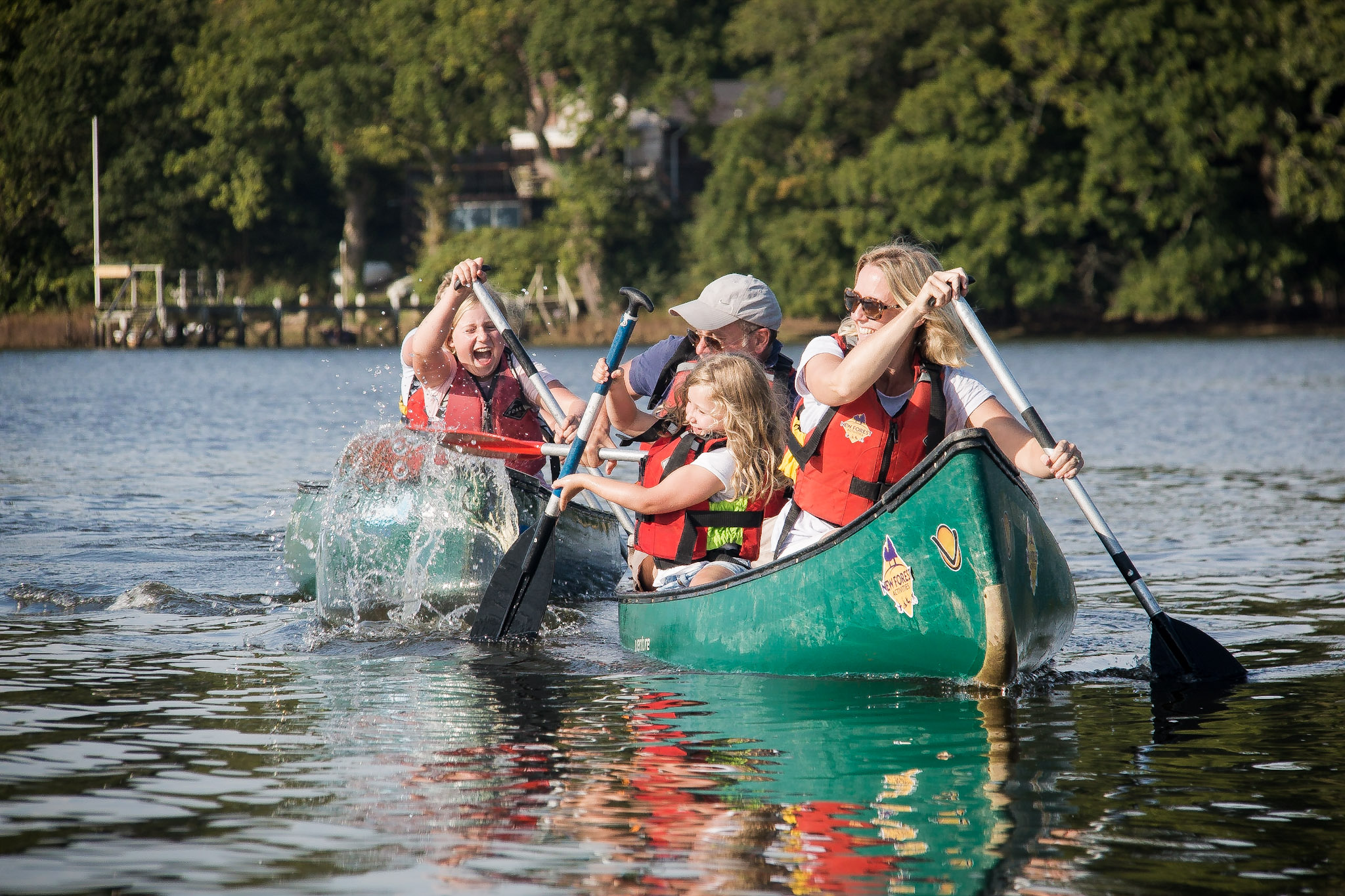 Enter code 'FAMILYCANOE-20' to get 20% off, for a limited time only!
Simply enter the code at the checkout and your discount will be automatically applied.
Book Now
"A great family adventure session"
A fantastic adventure experience crewed by a very friendly and professional team. Canoeing down the Beaulieu River was a wonderful experience and the guides were competent, knowledgeable and made it fun too!
"Brilliant canoe trip for all the family!"
Totally brilliant trip. We did a family canoe for 90 minutes up to Beaulieu and it was amazing. We were well prepared with excellent equipment and guided all the way. The staff were lovely and so helpful and our group of 4 adults, 4 children and 1 dog had a fantastic time. Can't fault the experience at all.
"Family bonding"
Excellent day, great fun. Only 4 in our group, lots of time to explore. Fun facts along the way from the instructor too!
"Great day out with the kids"
We had a great experience with this organisation. We were lucky enough to pick a sunny, dry day. The location was beautiful. Our instructor, Leander, was friendly, encouraging and informative. All equipment was clean and looked after. We spent a fun hour and a half paddling up the river, being helped by our instructor to improve our paddling and steering skills and being told all about the local plants, wildlife and area. Would definitely recommend.
"Great family fun!"
What a fabulous morning on the Beaulieu River. My partner and our 4-year-old son absolutely loved it. Dani our instructor was lots of fun and very informative. We'd highly recommend.
Book with confidence.
As one of the #1 things to do in The New Forest, we're confident that what we do is excellent and provides real value for money.
However, if for any reason we let you down, you'll be eligible for our 100% satisfaction guarantee and we'll refund you your money, no questions asked.
Watch the video to find out more!
Price
Was: £34 Adult | Now: £27.20
Was: £19 Child | Now: £15.20